PHYSICAL EDUCATION
The Department of Sports of our college seeks to support the development activities and programmes in the field of sports. The mission of the department is to make our College a leader in the sports arena by creating high quality infrastructure, promoting a sports culture and harnessing talent at the grass root level.
Under the able guidance of our Management, the College encourages all students to participate in sports with additional encouragement in the form of fee waivers, scholarships and individual coaching. The college has been able to achieve great strides in the sports fraternity and it boasts of playing a major role in bringing laurels to the College and making it a renowned institution.
Listed below the various sports activities carried out in the 2019 – 20.
Sports day was celebrated in our college on 29.02.2000. Honourable Thiru KR.Ramasamy MLA , Karaikudi Legislative Assembly was the chief guest and inaugurate the sports day . Dr A.Palanisamy Professor & Head, Department of Physical Education , Bharathi Dasan University, Tiruchirapalli also attend the function. Finally Hon'ble Santhi Soundarajan Indian Athlete (winner of 12 International Medals) delivers the valedictory address and distributes the prizes.
SR. Vaithish kumar IV BE (Civil) was Participated Indian team in 5th Rollball World cup from 12th November to 17th November at chennai ,organized by the International Roll ball Federation( IRBF), Roll ball Federation of India (RBFI) & Delhi NCT Roll ball Association(NRBA) Indian team won the First Prize. As a Honour Management of Sri Raaja Raajan College of Engineering & Technology rewarded his Rs 1,00,000/- for taking part in Indian team.
He was congratulated by our honourable chief minister Edappadi .K.Palanisami
K. Ajay IV BE Civil was participated in All India University Athletics meet for 110 Hurdles from 02.01. 2020 to 06.01. 2020 at Alva's College , Mangalore .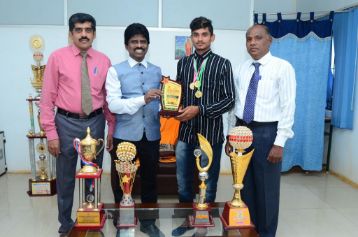 Our College sports team participation in Zone 16 Anna University Events
ANNA UNIVERSITY RANK HOLDERS
S.NO
Sports
Position
Venue
1
Kabaddi
Runner
Sri Raaja Raajan College of Engineering and Technology
2
Athletics
Over all Runner
Velammal College of Engineering and Technology, Madurai
3
Volley ball
III Place
Anna University Regional campus Madurai
4
Football
IV Place
Anna University Regional campus Madurai
5
Kabaddi (Sivaganga District)
Winner
-